to BA Quarter Horses where our prospects have it naturally, so you have less work to do! We are a small private breeding farm of champion futurity halter and all-around versatility, reined-cow and reining horses. We have a very small but elite band of mares that embody the extreme talent we strive for and the dispositions we require. Our main focus is to continue to produce horses we enjoy and now to get them in the show pen! We want to breed to stallions that show outstanding dispositions and pass on willingness and trainability. We breed for easy moving Non Pro horses with Open level talent and the desire to perform all packaged with correct conformation and that extra touch of pretty.
We find that combining the old foundation blood with the popular arena show blood creates athletes with a good mind, honest heart, tremendous ability and that have the structure and durability to stand up to years of use in the show pen. This breeding creates a much better minded prospect that can just get to work instead of needing to be worked down before you can even get to work…
Our reining and working cow prospects are own daughters of Hit The Lights and Dunnit In Hollywood. Our mares carry the legendary blood consisting of Freckles Playboy, Grays Starlight, Hit The Lights, Colonel Freckles, Custom Crome, Dunnit In Hollywood, Hollywood Dun It, Holidoc, Wheeling Peppy, Dry Doc, Crome Plated Jac, Mr. San Peppy, Lenas Sugarman, Peppy San, Doc O Lena, Paid By Chic, Playboy Seventy, Dry Doc, Jewel's Leo Bars, Mescalito Benito, Great Pine, Pine Bartender, Doc Quixote, Doc's Prescription, Hollywood Jac 86, Peppy San Badger, Shorty Lena, Smart Chic Olena, Doc's Sug, Topsail Cody, Doc Bar, Smart Little Lena, Smart Like Lena and Little Tequilla Lena blood... with mares like Rest Stop, Leave The Rest, Playboys Promise, Docs San Pebbles, Smokins Tokin, Positivio Lena, Sugar Gay Bar, Poco Lena, Lena On Me, Miss Spooknik, Delicate Dry, King Ginger 70, Scripts Beauty, Lena San Trouble and Smart Peppy on the papers. But more importantly than what's on the paper is our mares & prospects all have incredible talent, exceptionally good dispositions & excellent conformation. Producing naturally talented individuals with trainable attitudes, wonderful dispositions, textbook conformation and tremendous heart.
We have very proudly owned many World & National Show Top Ten producers and performers in Halter, Western Riding-Jr & Sr, Leading The Nation horses in multiple catergories in the Top 5 and Top 10. We have bred a World Champion and an Top 5 World Show Open western lunge-line yearling stallion. We have also had the distinct pleasure of owning and training a Jr Western Riding National Champion and a Sr Reining National Champion. We have trained many Youth All-Around Versatility champions, ApHC Champions, Futurity Champions, State Champions and AQHA Champions. We have bred open & breeders futurity champions, a Best Foal Of Show, year-end high points, a year-end reserve high point and a Unanimous Breeders Futurity Champion.
We are the breeders of the hot up and coming red roan pleasure horse MY FIRST NOTICE - the first son of My Final Notice. He was already Top 5 2x at the World Show & is an NSBA Money Earner. We are the proud breeders of unanimous WORLD CHAMPION - BA LIGHT EM UP a 2007 stallion by Hit The Lights and 2008 stallion (was BA High Octane), now registered as Mamas Gotta Juicebox by Million Dollar Sire Smart Like Juice.
As well as BA Social Graces (pending a name change), an own daughter of Bueno Chexinic becoming well known as a 'cow horse' from her yearling photo napping under a black & white bald hefer.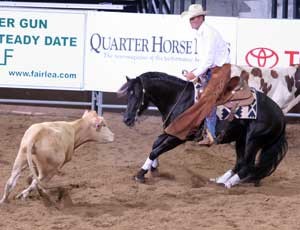 As we look to the future...
we continue to choose champions!
Smart Royal Rey, Very Smart Remedy,
TR Dual Rey, Skeets Peppy, CD Lights, That CD Rocks,
Mr Playinstylish, Mister Smart Remedy & Who Whiz It.
We will only be keeping back a couple mares for breeding, but these are the stallions we are considering choosing from in the next couple of years.
We are almost done breeding all together - and we are saving, what could the best, for last!