BA LIGHTS OUT
2008 Black AQHA filly
NRBC & AQHA Incentive Fund PAID UP
Promise's Royal Pedigree-
HIT THE LIGHTS, LTE $115,426. AQHA 1999 Sorrel Son of Grays Starlight. NRBC Open Classic Champion, SWRHA Open Futurity Champion, NRHA Open Futurity Finalist, 2-time NRHA Open Derby Finalist, NRBC Open Finalist. Sire of bronze earners & Derby Champions with only 1 crop to show. Now a WORLD CHAMPION sire, and the sire of the NRHA's #1 Ltd. Non Pro money earner for 2009!
BA LITTLE SMARTIE, Excelled in reining training as a 2yo and is now on her way to becoming a proven producer. She was riding bridleless at 2 and was our Top Reined Cow prospect.
GRAYS STARLIGHT, LTE$41,128. (own son of Peppy San Badger) He is a leading sire of aged event money earners, exceeding $11,000,000 and ranks as one of the top 15 of Equi-Stat's All-Time Leading Cutting Sires.
PLAYBOYS PROMISE, LTE$22,999. (own daughter of Freckles Playboy) Dam of offspring with earnings in excess of $269,700. Playboys Promise is not only the dam of NRBC Champion Hit The Lights but she is also the dam of Hiccup N Play. Producer of Play Dual Rey, currently 2nd place in Worlds Greatest Horseman Prelims. She is also the dam of Play Royal. 2009 PCCHA $20,000 Non-Pro Year End Champion & 2009 PCCHA Rookie of the Year (only horse rode for title), 2009 NCHA $20,000 Non-Pro Area Leader.
LITTLE TEQUILLA LENA, Is (2004) highest point earning foal by Smart Little Lena, 407 points in Working Cow Horse, Heading, Heeling, Reining, Tie-Down Roping, & Halter. Open & Amateur ROM, AQHA Open Superior Heeling, Superior Amateur Heading & Heeling, Top 5 World Show Amateur Heeling, HP Working Cow Horse Top Ten, HP Daily Team Roping Heading & Heeling- Top 5,QHN All Around Amateur, Nebraska Rope Assoc. 3-Time saddle winner.
SMART LITTLE LENA, **THE IMMORTAL** 2nd All Time Leading Cutting Horse with lifetime earnings in excess of $743,000. The first NCHA Triple Crown Winner. Sire of offspring with earnings in excess of $34,900,000 and is the All Time Leading Sire of cutting horses.
SMOKINS TOKEN, LTE$21,119 NCHA and was the PCCHA 5year old Classic Champ. She produced money earners in NCHA, NRCHA, & NRHA.
HES MAKIN MONEY, World show top Ten Sire.
HIT THE LIGHTS is now a WORLD CHAMPION sire!!!
The cross of our IDEAL sire - Hit The Lights on my favorite riding horse of all times - BA Little Smartie;
was a HUGE success!
BA Little Smartie sire Little Tequilla Lena




natural, pure, powerful, fun..... this filly is my dream realized!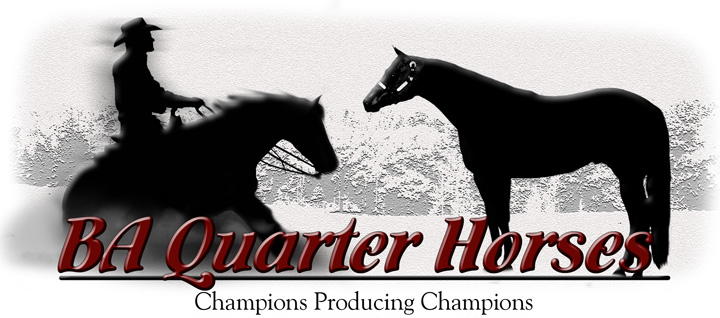 © BA Quarter Horses 2018 All rights reserved.
All views shared are mearly my opinion - I try to represent each and every horse as I see them. I may see them differently than you or anyone else, so I always recommend you make your own decisions based on your own needs, views & opinions, and always recommend you do your own research. And as I have learned from my own costly experiences, I recommend you always come see them in person! No refunds are given for any downpayments and/or purchases. All vet, farrier, misc board & care costs will be responsibility of purchaser beginning at 10 days post purchase. Vet exams are welcome at buyers cost. I always recommend you get a second opinion and do a pre-purchase.
SITE IS EDITED AND MAINTAINED BY A 3rd PARTY - for issues, inconsistancies, inaccuracies please contact : gonnaslideitnrideit
@gmail.com
UPDATE NOT YET COMPLETE